'Joy of Discovery' for me is synonymous with Kota Kinabalu. Its rich heritage and architecture leave you awestruck, trekking through its forests make you stop in wonder and the locals make a special place in your heart. It's no wonder when asked to describe it, most travellers simply call it a 'paradise'. Kota Kinabalu, the hidden gem of Malaysia is increasingly becoming popular in India and I was lucky to spend a week here. Here's my list of top 15 places that you must visit when you are in Kota Kinabalu.
1. Tamaza Adventure Park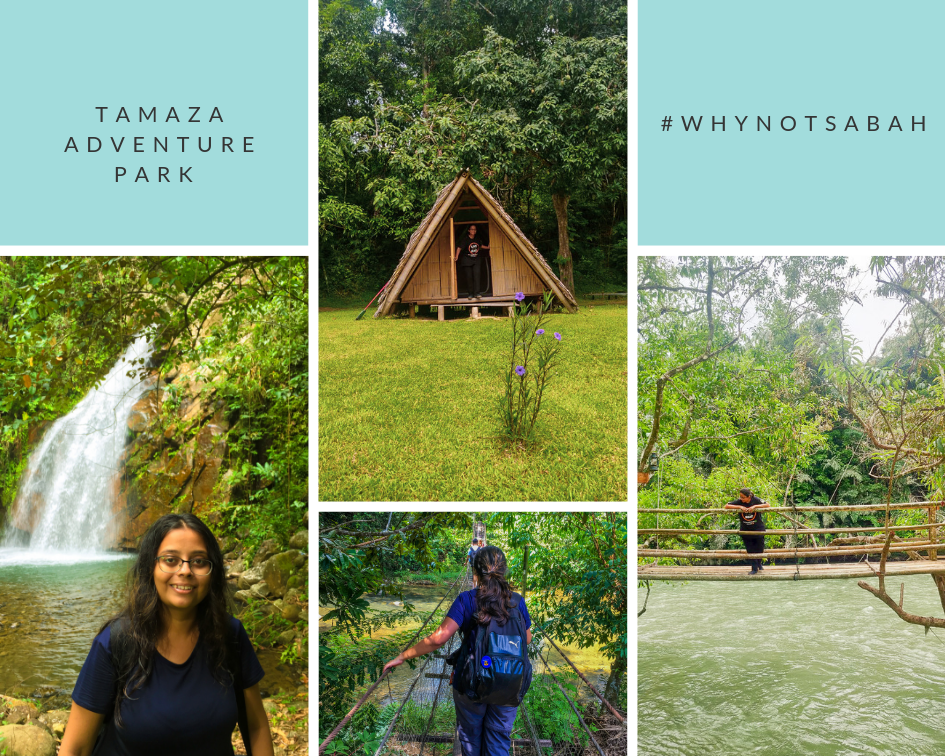 Kota Kinabalu is one of Mother Nature's favourite children. Trekking through its lush green forests, crossing rivers and rivulets with its icy cold water, splashing about in a secret waterfall and counting a million stars at night makes you realize what a beautiful place it truly is.
Tamaza Adventure Park is perfect for adventure enthusiasts and offers a range of activities.  Spend a day trekking to a gorgeous waterfall and the next river rafting. Both are equally exhilarating.
2. Kiulu
Kiulu Valley offers one of the most stunning views of Kota Kinabalu city. Located in Duaran district in the northwestern part of Sabah, Kiulu valley is known for its rural tourism. It has cute cafes and farmhouses dotted along the way and it's a great place to experience rural Malaysia.
3. Pillars of Sabah
A riot of colours and quirky art is how you would describe Pillars of Sabah at first glance.
Look closer and you will see the inspiring messages that aim to educate people on the importance of wildlife conservation and climate change. Pillars of Sabah is a free art gallery meant to inspire, awe and educate about the ill effects of climate change.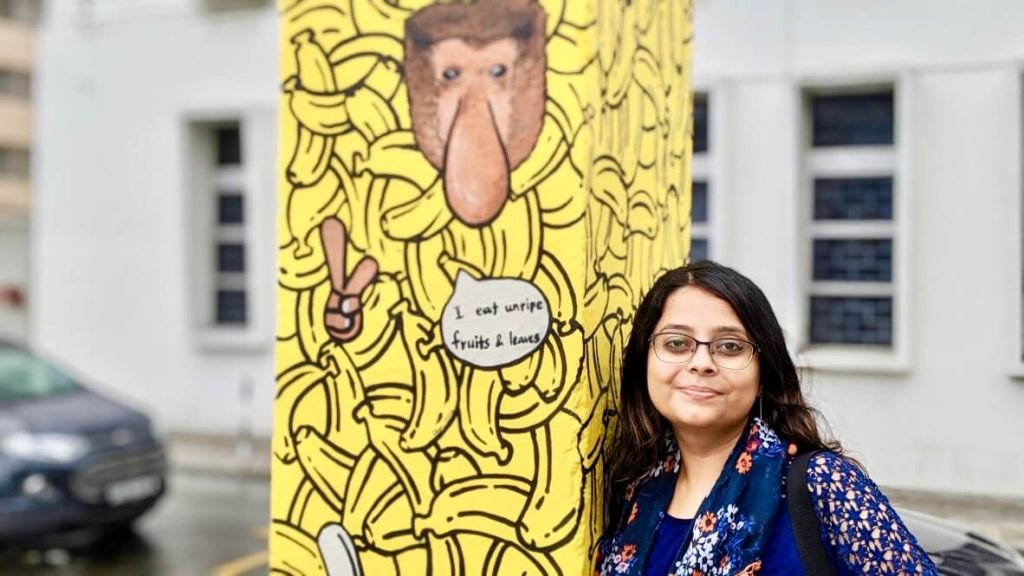 Each of the 30 pillars painted by Sabahan artists depicts 30 endangered animals who will become extinct if we don't come together to work towards conservation and reversing climate change.
4. City Mosque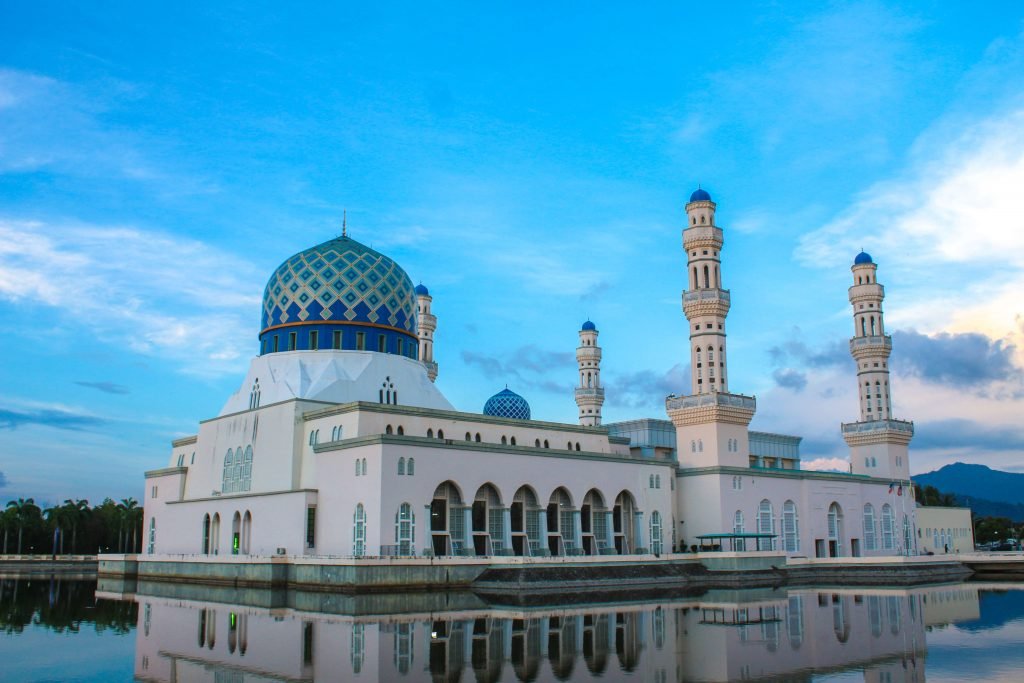 The city of Kota Kinabalu is a centre of great Islamic Heritage. A large white mosque, located near the sea and known as the floating mosque, is a remarkable display of Islamic architecture and is a must visit for visitors to the city. The mosque houses three traditional Islamic schools of learning known as Madrasas and has a capacity of almost 12,000 people. The Mosque is open to the public to visit and is closed only on Fridays for prayers. Non-Malaysians are not allowed to enter the mosque but can enjoy it's beauty through a special viewing area created for them.
5. Jesselton Waterfront
Head to the Jesselton waterfront to enjoy one of the most beautiful sunsets you have ever seen. A host of hotels and pubs are located around this area. The streets come to life at night with the flavours of fresh seafood wafting through the air. Jesselton Waterfront is perfect to spend an evening out.
6. Tara Arung beach
Aru trees gently sway in the breeze as the skies are splashed with vibrant colours signalling the end of a fabulous day at Kota Kinabalu. The Tara Arung beach is home to Shangri-la's Tanjung Aru Resort, the Kinabalu Golf Club and the Kinabalu Yacht Club.
It's one of the cleanest that you will come across and if you are staying at Shangri-la's Tanjung Aru Resort, you can enjoy kayaking, riding an ATV amongst other activities.
7. Mount Kinabalu
At a little over 4000 meters, Mount Kinabalu is the tallest peak in South Asia. It offers some stunning views and is climbed by many experienced hikers in one or two days. It is advisable that one takes a little longer to savour the beauty of the trek while also reaching up there unhurt.
If you are keen to go for this hike, remember to plan and register for the hike in advance since there is a restriction on the number of people who are let to hike every day.
8.Mount Kinabalu Park Botanical Garden
Don't let the nature enthusiast in you to miss the Botanical Garden near Mount Kinabalu. Said to be among the area's best kept secrets, there are more than 5000 plant species that one can find in this park. Guided tours make exploring the park really worthwhile with the guide providing you knowledge about different plant species. They are available from morning to late noon and are a treat for nature lovers.
9. Klias Wetlands
Take a day out to explore the forest wetland reserve of Kilas near Kota Kinabalu. This will take you through scenic stretches of the river meeting the sea and will give you a sensational view of Mount Kinabalu. Take a relaxing trip through the lovely mangroves of the region where you will be able to catch sight of wild monkeys and beautiful birds. The late evening cruises can sometimes lead you to spectacular scenes of fireflies in the darkness.
10. Mari Mari Cultural Village
For the cultural enthusiast, a visit to the Sabahan tribal village of Mari Mari is a must. Mari Mari is a cultural village which is a short 30 minute trip away from the hustle and bustle of Kota Kinabalu. It gives travellers an opportunity to learn about the Sabahan people's cultures first hand by indulging in their ways of life.
From their customs, food traditions to their traditional homes, the tours let travellers have an experience of a life time
11. Muzium Sabah
The Muzium Sabah is a repository of information that showcases distinct features of Sabahan culture. With sections on Pottery, History, Ethnography and other exhibits, it is an invitation to learn more about the Sabahan people. Although the visit might appear repetitive after one's visit to Mari Mari, the museum is a good addition to people who love and appreciate the intricate aspects of indigenous cultures.
12. Tunku Abdul Rahman Marine Park
Located a short boat ride away from Kota Kinabalu, the Tunku Abdul Rahman Marine Park is a  gateway to a cluster of islands that offer a range of adventure sports activities.
The islands include Lulau Gaya, Pulau Mamutik, Pulau Manukan, Pulau Sapi and Pulau Sulug. The islands of Manukan and Gaya are home to a few of the most splendid beaches and are frequented by tourists who swim in the blue waters. Diving and snorkelling is in these clear waters is very popular here. Even untrained divers are taken on snorkelling trips to view the colourful seabed.
Licensed divers can take it to the next level by going on independent tours around popular diving spots in the island. Resorts are available in the islands for travellers to spend a night away from the bustling city of Kota Kinabalu.
13. Gaya Street Market
A visit to Kota Kinabalu will be incomplete without dropping by its famous flea market. Gaya Street comes alive on Sunday morning with stalls opening up to sell interesting little things of art and antiques. This is a great place to go buy souvenirs but be ready to wear your black belt at bargaining since that is a necessary skill to resist fleecing.
14. North Borneo Railway
The North Borneo Railway is run on a classic British steam locomotive engine and is a great way to experience the railways of yore. The coaches have been designed with interiors from the British era with staff wearing attire that remind one of the colonial times. Breakfast and lunch are served while onboard. The train chugs by the Lokawi Bay and through paddy farms, giving travellers picturesque views of the countryside. Travellers experience the clock rewinding into the past while on their trips.
The train starts from Tanjung Aru at 9:30 a.m. and covers a distance of 35 kilometers to reach Papar in two hours and fifteen minutes. The train halts for 20 minutes at the town of Tien on the way. Once at Papar, the train halts for 35 minutes allowing travellers to explore and visit local shops around the station. The train makes a return to Tanjung Aru at 1:40 p.m. in an estimated hour and twenty minutes.
Passengers are provided with continental breakfast and lunch while on the journey.
15. Suria Sabah Mall
The shopaholic in you will rejoice as you enter Suria Sabah Mall which has an excellent blend of local and international brands, lovely restaurants and other entertainment activities.
Travelling to Kota Kinabalu from India 
There are no direct flights available from India to Kota Kinabalu and you are bound to have a layover at Kuala Lumpur. I recommend that you spend a few days exploring Kuala Lumpur. Have a look at this post which is a detailed guide on Things to do in Kuala Lumpur with kids. 
After exploring the KL, take a short two hour flight to Kota Kinabalu and explore the best of what the city has to offer!
If you are planning a longer trip to Malaysia, I would recommend that you read this detailed guide on Malaysia and the detailed guide to ecotourism in Malaysia.
P.S. I would like to thank Travel.Earth, Sabah Tourism, Malaysia Tourism, Avasi Borneo and Malaysia Airlines for hosting me on this wonderful trip.