Daily trading of stocks can be a highly rewarding profession for people interested in the workings of the market. However, given the volatilities of the market, it can be just as dangerous if handled with ineptness. One needs to possess the right skills and tools to understand and work around the mood of the market. Most importantly it requires patience, access to in-depth information and an outstanding agility in making quick decisions. This becomes all the more important in India where the Bombay Stock Exchange with a median trade speed of 6 microseconds is reportedly the fastest in the world. The age of internet makes easier than ever before to access updated data relating to the market. Most of the time, this information comes at a price as it is monetised by firms. The Edelweiss Mobile Trader app is the game changer. Available both on Android and IOS platforms users can track live market movements while on the move for free even without registration.
What is the Edelweiss Mobile Trader app?
A product of Edelweiss Personal Wealth Advisory which has over the years, been providing quality services to help people invest wisely, this app has been built on three pillars:
Speed
Stability
Simplicity
What are the key features of Edelweiss Mobile Trading App?
It is an intelligently designed application that provides the user many advanced features that include:
Detailed Quote Page that covers fundamental, technical and analytical aspects of any stock or contracts to help make informed decisions.
Live and Personalized Notifications that are relevant to your portfolio and your interests in the market.
Exclusive Stock recommendations along with detailed reports from Edelweiss Investment Research Team.
Pull The Bull feature allows you to view the live performance of Nifty, Sensex, USDINR including SGXNifty from anywhere in the app.
The recent search, price alerts, Watchlist feature and live streaming prices across the app allow you to view your most preferred stocks and stay updated at all times.
You can Track and trade in equity, derivatives, currency, commodities and mutual funds all under one app.
What is the USP of Edelweiss Mobile Trading App?
The USP of this app is the advanced Charting tools. Edelweiss Mobile Trader is the only platform that offers such detailed charts for free on your smartphone in the country today. The live streaming charts are designed by experts at Edelweiss and they also offer historical data going back up to 15 years. The Super Trend indicator along with 17 other technical indicators are a great resource to utilize and gain advanced insights. Further, drawing tools like the Trendline, parallel channel, Fibonacci retracements and others allow for better analysis of these charts. Users can also save and load their favourite templates on any chart.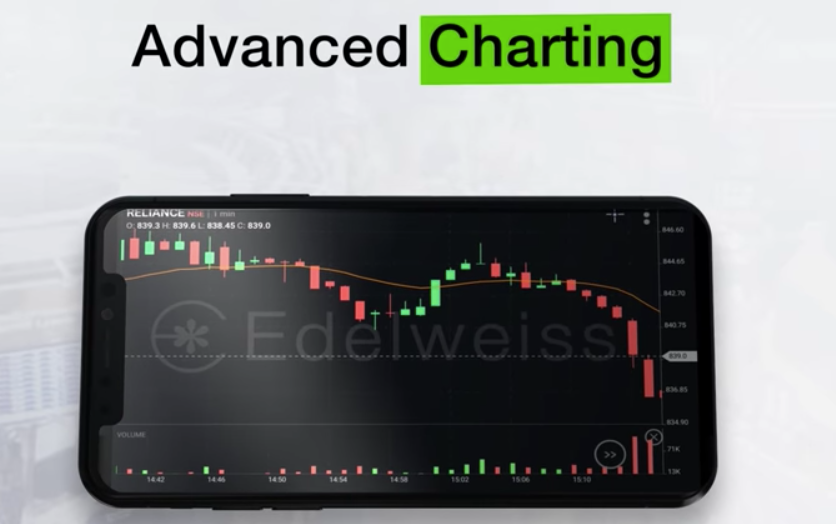 Another special aspect of the app is the developer's openness to evolve and change continually based on user feedback to ensure that you get the best experience. It is no wonder that Edelweiss Mobile Trader app is currently the highest rated trading app both on Playstore (4.4 rating) and IOS (4.3 rating).
A free to use mobile app providing real-time data and having no intrusive advertisements is surely something. With over 3 million minutes of usage being recorded every day the Edelweiss Mobile Trader app is a must-have app for every trader.
Upon registering in the Edelweiss Mobile Trading App the user can also access simplified solutions to trading in the market. It takes only 3 taps to complete an order on the app. One can also place orders directly while analysing charts.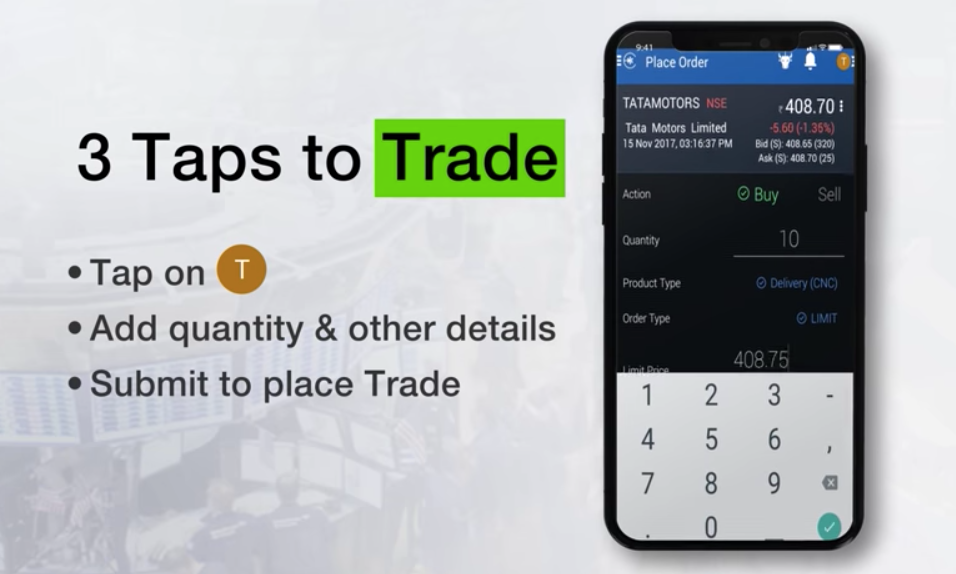 Based on user feedback, the authentication process, too, has been simplified to a one-step authentication on one's personal smartphones. The Edelweiss Mobile Trader app is a brilliant effort to create a platform which cumulates and provides live streaming of information related to the needs of a daily trading. Along with this, the app also ensures that the needs of a lay market investor too are met. It is a great app to explore, monitor and transact in the market.
Watch my team member at Munniofalltrades sharing his experiences and views on the Edelweiss Mobile Trading App.
The Edelweiss Mobile Trading app is undoubtedly the #BestTradingApp