We millenials are a different breed and we don't understand simple communication styles. Sarcasm is second to our mother tongue and memes and GIFs are an art form for us. We revere those who use a blend of dark comedy with dash of sarcasm and emoticons to convey their messages.
So should I use the long form and try to tell you about the dangers of indoor pollutants? Nah. I think you will like my other approach better.
1. The Terribly Tiny Tale of Air fresheners
Hard to digest? Air fresheners may definitely reduce bad odor but did you know that they contain toxic pollutants that have severe health risks. Many air fresheners contain glycol ethers and its variants, which is considered to be a major cause of indoor air pollution which is known to cause fatigue, nausea, respiratory problems and sometimes even anemia. Phthalates is another chemical that is commonly a part of an air freshener's ingredient list. These are considered to be harmful for infants and young children.
Every time you spray your air freshener and take in its soothing fragrance, you are in fact also taking in harmful substances.
What is the solution?
Go Natural. Use basil leaves, fresh plants and organic air fresheners to make your house fragrant.
2. Even Futurama Fay narrows his eyes at second hand smoking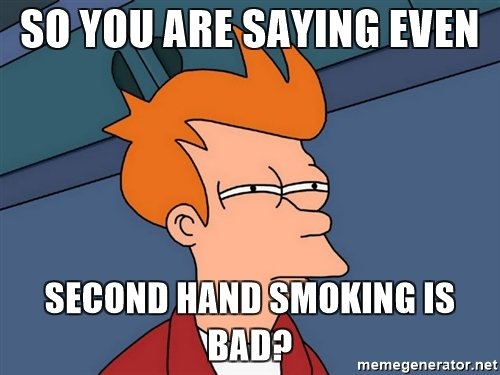 I cringe whenever I am forced to watch those smoking ads by the government of India where they explicitly show the ill effects of tobacco. I hate watching them but I still believe they should be aired more often so that you truly understand what smoking can do to you and your family. Family, you ask? Yes, second hand smoking can harm your family and particularly young kids whose immune system is still evolving. Third hand smoke which means residue that remains on your furniture and around the house after the smoke has vanished can again be harmful for your families.
3. Cleaning products are not all that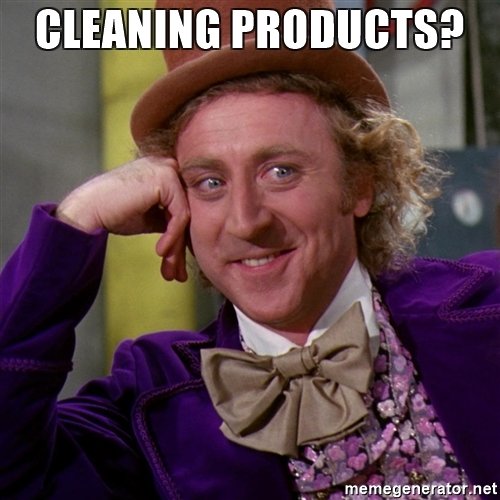 I love scrubbing my house till it is a 100% germ free. Living in a city means that my house is prone to dust accumulation and sometimes mold during the monsoons. Cleaning products available in the market today contain alcohol, ammonia, chlorine and other chemicals that can have an adverse affect on our health. Bleach is something that you should avoid at all costs. It contains chlorine as its main ingredient which is quite dangerous.
Pro tip: Opt for natural and 100% organic cleaning products or wait till the end for my solution…
4. Even Alladin is scared of carpets these days
 Volatile Organic Compounds which include ethyl, acetone, beneze and other unpronounceable chemicals are present in the brand new carpet that you may have purchased. These days, carpets are made of nylon and other synthetic fibers which may make your home look pretty but will harm your health.
As your carpet gets older, it starts attracting dust, germs, bacteria and god knows what not. Every time we walk on our carpet wearing our regular shoes and chappals, we add a new range of germs that may be stuck to them.
Solution? The best solution is to vacuum your carpet at least twice a week and take precautions to buy a carpet made of natural fibers.
5. No, my kitchen, too?
You would be surprised to know that heating equipment also produces small quantities of carbon monoxide which can cause ENT inflammation, eye relate problems and respiratory problems. Non-stick cookware also releases toxic fumes and it is advisable to not use it on high temperatures. Exhaust fans are a must have in the kitchens and should be used at all times.
6. Paint
Yes, I am sure!
Paint! Harmless paint that makes our walls look pretty can be so harmful. You never would even think of it. It is one of the most common and invisible forms of indoor pollution. Some paints contain lead and other harmful substances that can cause fatigue, skin allergies, respiratory problems and many other problems. Many paints are not environment friendly and therefore cause more harm than good.
So, if paints are that harmful…..
What if I told you that Asian Paints Royal Atmos can:
Reduce air pollutants?
Release fragrance?
And fortify your walls against stains?
Would you believe me? You should!
With its activated carbon technology, Asian Paints Royal Atmos helps you reduce harmful air pollutants, formaldehyde, and makes the indoor air healthier to breathe. Interestingly, it helps you get rid of pungent smells like garlic, onion or rotten eggs easily which makes it ideal to be used for your kitchen.
A paint that can emit fragrance almost sounds magical doesn't it? Thanks to its advanced technology Royal Atmos does this and a lot more.
The nature lover in me has reasons to rejoice because this paint has a Green Assure promise which means Atmos conforms to strict international environmental and safety standards.
The artist in me dances with joy when I see the rich matt finish and the vast number of colour ranges Royal Atmos is available in.
The house cleaner in me is delighted to know that Royal Atmos comes with a Teflon surface protector which protects the walls against stains and makes it last longer.
Even Dank Irrfan says yes to Asian Paints Royale Atmos
Do you need more information or…
For more information, do visit  https://www.asianpaints.com/atmos