Have a look at this video.
And this!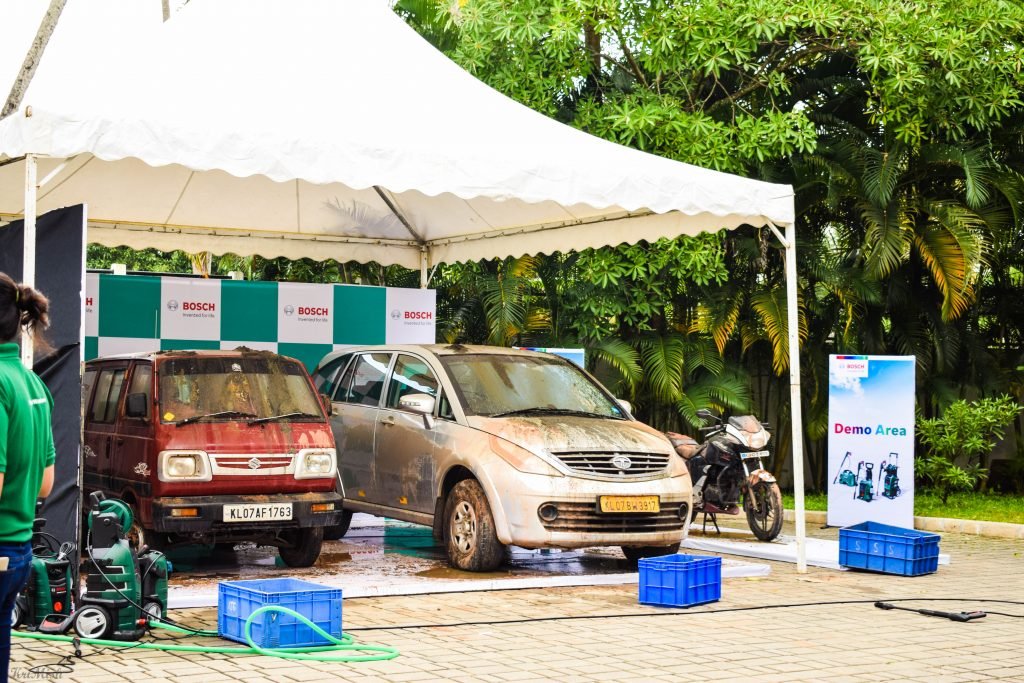 How long do you estimate you would take to clean this car and bike up? Go on, take a guess.
I scoffed when I was first told that the new range of High Pressure Washer by Bosch can clean up these cars in a couple of minutes. Surely, nothing can be so powerful that it can clean up all this muck in no time at all. Team Bosch was confident and challenged all of us present at their product launch to make these cars and the bike as dirty as we wanted and then use their product to clean it up.
In fact, the Bosch team even did a 120 second plank to prove to all of us present that they truly believed in their product.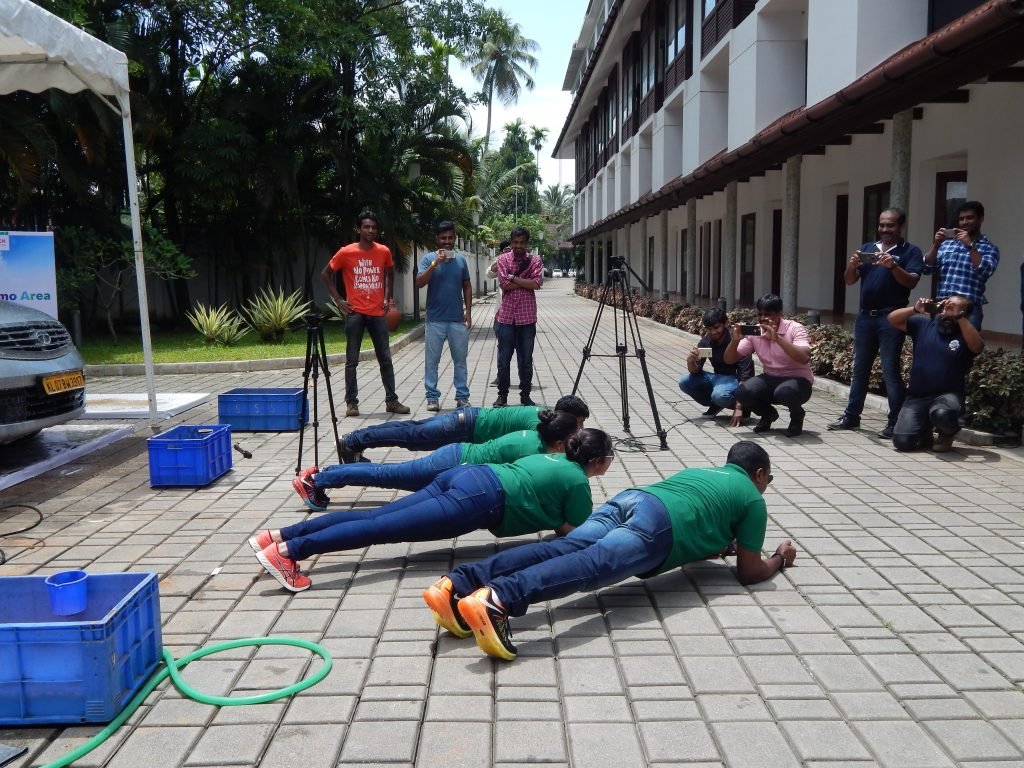 Hats off to them! Seeing their level of conviction made me curious. How good was this product really?
Well, this is what happened next. A guy volunteered to clean the car up and look…
Don't worry, for a minute even I thought that I was hallucinating. Did you see how quickly this car got cleaned? I wanted to experience it myself, and gave it a shot.
It was almost a therapeutic experience; to see the car go from disgustingly dirty to squeaky clean.
Wow! Now that I had seen the impossible, I wanted to get as many facts about Bosch Aquatak High Pressure Washer as possible.
The first thing I wanted to know was how environment friendly was it?
I generally end up using up to two buckets to wash my car and certainly wouldn't want to waste any more water.
The Bosch Team informed me that the cleaner is designed in such a way that it consumes only half a bucket of water to clean your car and it is an auto stop system, too, in case you forget to turn it off. That made me happy.
What is the USP of Bosch Aquatak High Pressure Washer?
Multi-use washer range to suit every need
Easier, quieter and more powerful: the new Universal class
For particularly stubborn dirt: two additional Advanced models
What are its features?
Dubbed as a lifestyle car washer, the Aquatak High Pressure Washer not only works on your vehicles but can be used to complete your other cleaning tasks, too. It is portable, highly efficient and easy to use. Bosch has launched several variants  and you can opt for the Easy, Universal or Advanced version depending on your usage.
What does a kit contain?
All the kits essentially contain a Bosch gun, which helps control the flow of water, a lance, which is an extension of the gun and a pressure hose. There are add ons in every kit, of course, depending upon which you opt for.
Quickly, what is the difference between the Universal and the Advanced version? 
Features of the Universal Model
The Easy range has a basic set of features and it is useful for somebody who is looking to clean their vehicle and complete simple cleaning tasks around the house. It is a simple mechanism that can be handled by anybody.
Features of the Universal Model
The basic difference between the pressure cleaners is the water flow rates which ranges from  350 to 410 liters per hour. In addition to this, each cleaner has a different pressure range, too. to suit the varied cleaning needs. Bosch has also introduced a three-in-one spray jet system which comprises of a high pressure pencil jet, rotary nozzle, 90 degree nozzle and a high pressure detergent nozzle to help you complete multiple tasks simultaneously.
This range also includes a a high pressure detergent nozzle which distributes the cleaning foam produced evenly  over the surface to be cleaned.
Features of the Advanced Model
The advanced class of cleaners are the most powerful and robust tools for thorough cleaning. The models now have a four-cylinder 'Quad' pump that gives you a higher performance even as the overall design is light and compact.  This makes the tool powerful as well as ergonomic.
This variant has three different nozzles: A vario fan jet/pencil jet lance, a rotary lance , a fixed fan jet nozzle with a 60-degree horizontal opening angle and a high-pressure detergent nozzle.
So how much would I have to shell out to purchase the Bosch High Pressure Aquatak cleaners?
The price range starts from INR 7,600/-  and goes up to INR-35,000/
I hope you found this post informative and enjoyed the pictures and the videos we have put together to give you a good idea about how great these cleaners are. If you have any questions, please let me know in the comments section below 🙂
Please note: I was invited by the Bosch team to Cochin to experience the range of products. My views are honest as always.