Hi guys,
2017 for me is the year of reading as many books as I can with the simple goal of acquiring new knowledge and channeling that information into becoming a better person. When I was approached to review, "When Change Happens", described as a factual fiction book, where the author has used his real experiences life examples to weave a fictional narrative, I just couldn't say no. I am happy to report that I did not regret my decision.
About When Change Happens
By creating a fictional company supported by actual situations encountered by him, during the many change and transformation interventions that he has been led and been a part of, the author, Lalit Jagitani has presented practical wisdom without compromising the confidentiality of the organisations. His storytelling narrative seen through the lens of a change agent enables sharing of lived content and nuances making this genre a powerful and entertaining way to transfer tacit knowledge.
When Change Happens- A Story of Organisational Transformation provokes reflection and opportunities that are enduring and enable the reader to come to real grips with the daunting task of mastering techniques to usher change.
About the author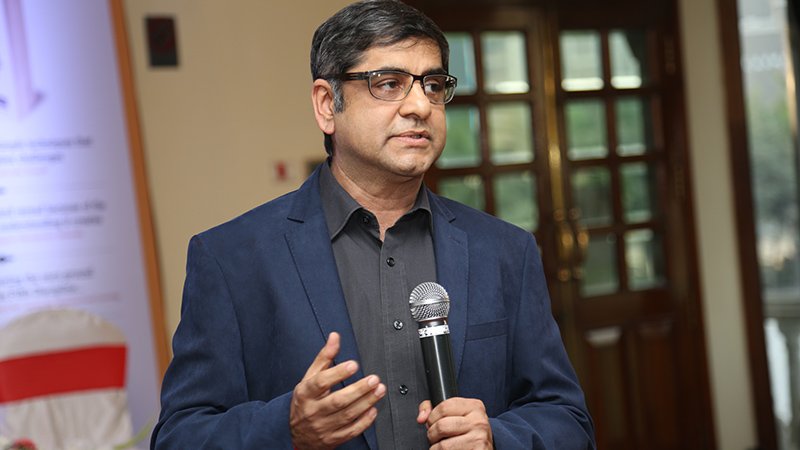 Lalit is a business transformation specialist. He has led and managed organisation transformations for customers across Asia Pacific. Currently he works with the top customers of SAP to drive innovation and transformation for digital initiatives that create new business value. As an adviser to business, his unique value comes from his ability to see the connections that are not very obvious. He is a Certified Master Coach, Organisation Learning; Certified Trainer, BTM2, the Transformation Methodology of SAP; a Certified Trainer in Performance Coaching and a leading practitioner of Design Thinking.
The Book Review
When Change Happens: A story of Organizational Transformation is an account of the Lalit Jagtiani's journey of many years in working with multiple organisations around management issues and changes. It has been presented through a fictional narrative of people working in an organizational setting. Written in the form of an interior monologue of the protagonist the book is a crisp articulation of how one can capitalize on the potentials of a team and utilize available opportunities to deal with threats that one might face as a practitioner in a real life organizational setup.
The story begins with Matt's apprehensions over his ability to take responsibility and to be part of a small team designated to lead a process of change in his organisation. The book takes course further with him feeling confident and invigorated to be a change agent after a workshop on organizational transformation. The events that follow are a tale of his reflective actions that motivate him to take charge of this process successfully. It is a tale of both personal and organizational transformation.
Advocating the belief that personal goals need to be in alignment with institutional needs for individuals to take ownership of their work outcomes, the book takes the reader through various hurdles encountered by Matt in a team building process he undertakes along with a team of change agents. A section dedicated to understanding and dealing with the politics of change will be of special interest to practitioners who are often faced with resistance from those in positions of authority in an organisation.
When Change Happens through its first person reflective narrative style helps one to realise and understand the soft-skills one must use in dealing with people across the hierarchy of an organization. The benefits of acting patiently by biting one's tongue for future gains even in situations where one is tempted to yell in anger at one's senior has been explicated smoothly and effectively through the difficult positions Matt has to face.
Being employed in a managerial role in the non-profit sector personally, I have found many of Matt's encounters and solutions practicable for use in my work area too. Especially interesting were those that dealt with points which lead to the success and failures of a Team and on how to cope with it in the role of a coach working to change the team's mindset.
Most importantly, Jagtiani does justice to the subject in more ways than one by making readable a topic which is usually dry. The book's greatest achievement lies in its narrative driven problem-solution illustration approach.
If you enjoyed my review, I am sure you would want to order the book yourself.
Sign up here to get the first chapter delivered free into your inbox: http://www.whenchangehappens.org
You can buy the book here