After 21 years of existing without any noteworthy accolades, I finally got the Liebster award from Preethi. I am going to bask in the glory for quite a few months now J
Liebster Award is given to up and coming bloggers who have less than 200 followers. It's appreciation from fellow bloggers and your chance to introduce yourself to other awesome bloggers.
If you receive either of these awards, you are expected to:
1. Post 11 facts about yourself
2. Answer the 11 questions the tagger has given you
3. Tag 11 more Bloggers (with no more than 200 followers; no tagging back) and make 11 questions for them
4. Tell the people you tagged that you did.
11 facts about me
I hate odd numbers, they bother me. So I am going to state 12 facts about me J
I think chocolate should be made the national dessert and should be subsidized like LPG cylinders. At least it will make people happy.
Blue is my favourite colour. At one point I owned only blue clothes and my mom had to drag me to the store to make me buy something in red or green or some other boring colour.
I don't like anybody interrupting me when I am having deep and meaningful conversations with myself.
My coolest nickname is Hingdani Pinky, which mean as pink as a watermelon.
I have a bag named tingu tommy (yes, my bags have names), a pendrive named tingu tommy and I have now adopted a virtual pet named tingu tommy. You can feed it apples and spray it with water. (He is on the lower right hand side of the page)
I only watch cricket when Tendulkar is playing and nowadays I only watch Youtube videos of him batting. Can't be bothered to see the Kohlis and the Dhonis play.
I think Kitab Khana is the best thing to happen to Mumbai and I hope it doesn't turn into a Landmark or Crossword within a few years.
I enjoy eating burnt food. I even make my mom deliberately burn things. It pisses her off to no end J
I love wearing old pyjamas, my current favourite is a pink pyjama that has travelled with me to Japan and Jaipur! Currently it is residing safely in my cupboard, away from the prying eyes of my mom who wants to throw it out.
I have a huge collection of toys, and I don't allow anybody, including adorable nephews and nieces touch them.
I strongly believe that my blog can make people smile.
My Nominees
These are the questions Preethi asked me
Why blog?
After yet another insane day of reading journals, writing reports and essays, my blog gives me an opportunity to write whatever that comes in my crazy head
How has blogging changed your life?
It has made a calmer person for one; I have a rant section to write about the things that drive me mad
Name one person who has truly inspired you, and has hence led you to change something about yourself.
Sachin Tendulkar has inspired me to become a better bastmen and not throw a tantrum when my kid brother declares me out. J
On a serious note, my Grandfather, who blogs at the age of 77 inspired me to start writing in the first place.


If there is something you would like to change about yourself what would that be?
What is your most priced possession in your room?
My ship in the bottle that I bought from a flea market!
Do you think blogging can help anything in any way?
Blogging is therapeutic for me and I believe that a writer's pen can definitely bring about a change in the world


What is the one festival in India you love to celebrate and do you think we still celebrate them in the same spirit as we used to decades back?
Sadly, there are none. Everything has become so commercialized nowadays
 If there is one thing you could do for your country(let's say there are no restraints and what you could do is magical), what would it be?
I will install clean public toilets everywhere
3 words that would describe you
Chocoholic, dreamer, Children-lover (I invented this word!)
Which is the best vacation you have had…and with whom?
I spend most of my childhood vacations in Mt. Abu with Nanaji. Nothing beats that
What do you think the future has in store for you?
Success, sometimes failure and loads of chocolates J
My questions for the nominees
The craziest dream you ever had?
How many gol gappas can you eat at a time?
Your favourite toy as a kid?
A superpower you wished you had?
The funniest prank you have ever played?
Which one do you prefer:
-Riding a roller coaster or reading your favourite book?
-Walnuts, cashewnuts, almonds or pistachios?
-Swimming in the pool or relaxing in a bath tub?
-What would you name your pet monkey?
-Salsa or Bhangra?
And finally a sensible question, what inspires you to write?
P.S. This is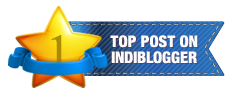 On another note, do
read
my interview with Anamika Mishra, the author of Too Hard to Handle, a story of friendship, love and fate.