What would you choose?
Mass produced garments at dirt-cheap prices that don't even last a wash and are created for a singled body type
OR
Gorgeous handloom sarees made by weavers who have been gifted the knowledge of crafting, designing, warping and wefting making each piece unique and a work of art?
The choice seems simple, doesn't it?
Yes, the slow fashion movement where one focuses on bespoke garments with quality workmanship and aesthetic designs that are timeless is the way to go. The handloom sarees in India symbolize this movement that prizes finesse and handiwork. It is steeped in quality, tradition and love for all things handmade.
My love for handlooms came to life when I visited a saree-weaving unit at Kerala and watched this wonderful man weave magic and bring white and gold thread to life.
I fell head over heels in love with handloom sarees. I enjoy looking for brands that reflect the slow fashion movement and bring handlooms from artisans into our lives. In my search for some fabulous handloom sarees for the summer, I came across Bharatsthali.com.
What is Bharat Sthali?
A one-stop treasure trove to buy traditional handloom sarees online, Bharat Sthali takes you through a journey of the rich heritage of India while bringing you the regional speciality and character with each fabric. Time travel through the passages of history and discover the finest of crafts and the best of weaving with us. Bringing together the textile designers, artisanal communities, weavers and artists, here's a contemporary platform that meets the delightful treasures and doesn't fade them out.
Now that you have been introduced to them, I am sure you would like to know about Bharat Sthali's collection. Let's have a look at my top 5 awe-inspiring sarees and my take on what makes them incredible!
Hansaja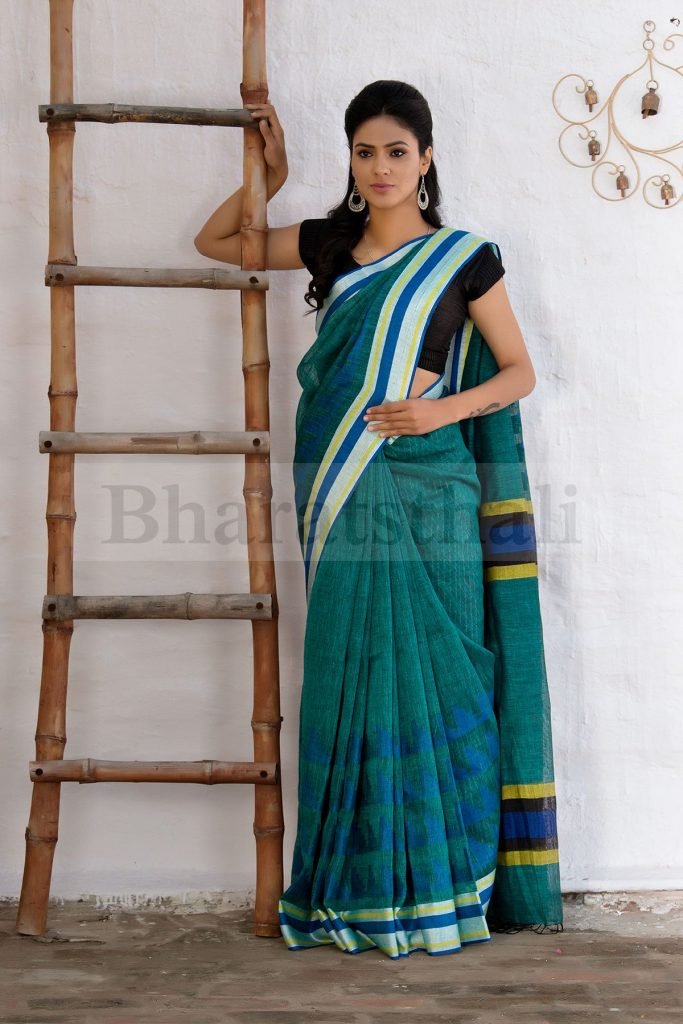 Emerald, blue, yellow and white woven to form a simple pattern which is perfect for the day and can be complemented with beautiful silver jewellery. That is the Hansaja saree for you!
Anvitha
The intricately handwoven blouse that makes this pretty red silk kanjivaram saree come to life. Staying true to its rich heritage, the saree is adorned with beautiful red and gold motifs on its green pallu.
Sargun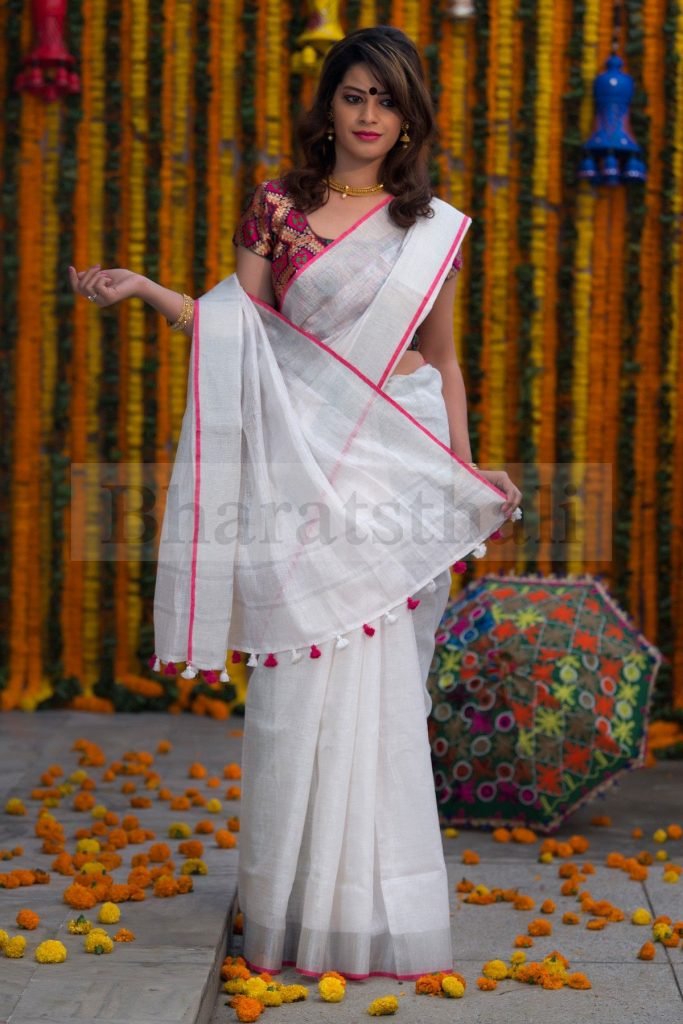 Who doesn't love tassels and I must say that a tassel border along the contrast pink piping brings this 'Sargun' to live. This pure linen saree is soft, beautiful and perfect for the summers.
Aarunya
Aarunya embodies the true spirit of slow fashion and handloom. Artisans spend 5 days to painstakingly create this boota work saree for you. Hues of teal, arctic blue and violet are blended with delicate gold work, which makes this saree stand out. It is truly a tribute to the rich heritage of the south and is perfect for contemporary Indian women.
Siahi
An interesting blend of jute pallu and linen, this saree from Bharat Sthali features Ikat, which is hand woven and naturally dyed. The colours used are cool blues, shades of pink with a sprinkling of green which reminds one of a spring garden. I love the modern colours used in this saree.
Manjusha
This sari has been handmade in the villages of Southern India keeping in mind the women of today who balances modernity with tradition.
It takes inspiration from conventional techniques and combines it with the modern colours like inky black, dull gold, bright green and deep pink to create a new age look.
Don't you love the creative names that Bharat Sthali has given to each saree?
My personal favourites are Sargun and Siahi. I love their flowy fabric and pretty designs that look modern, stylish yet are traditional in its true essence. Which is your favourite saree from Bharat Sthali? What do you think about handcrafted garments? Let me know in the comments below 🙂