The love for handlooms made its mark yet again at India Runway Week Season 8 which has been promoting textiles and make in India since the past four seasons. Bibi Russell's phenomenal opening last season and with Daniel Siyem promoting North eastern textiles, we were definitely spoilt for choice. As I had hoped, the magic continued in the 8th season as well where IFFD's India Runway Week dedicated day 2 to Indian Textiles and had a very special show for organizations promoting weavers of India. Shravan collaborated with Khadi Gram Udyog giving us major style goals with his amazing collection.
Now, let's have a look at the top 10 awe-inspiring textile looks from season 8 and my take on what makes them incredible! Trust me, there are some fabulous designs that were showcased
1.Gestures by Kriti
Handcrafted by Artisans and weavers their products symbolize the coming together of many gestures from Delhi, Bihar, Gujarat, Haryana, Himachal Pradesh,Kerala, Uttar Pradesh Uttarakhand, Maharashtra, Odhisa.
2. SoChe
Bringing work of women around the border areas of Barmer to Delhi ramp, this collection showcased Kalavast hand embroidery in different forms of fabric that is hand woven and naturally dyed.
3.Rangsutra
Called the Be the change collection, this was inspired by Bahaus art movement which was aimed at bridging the gap between art and industry.
4.Banka Silk
Displaying work of weavers from Banka, this collection has motifs which show the beauty of Mughal monuments. The clothes have been made for the women of today who balances modernity with traditions.
5. Sejal Jain
'Defining Lines' is a fusion of the traditional and the modern by taking inspiration from conventional techniques i.e. Dabu Print, tie-dye and hand embroidery and combining it with the modern silhouettes to give it a modern approach and to create a new age look.
6. Purnima Gulati
'The White Scream' collection, Purnima Gulati a zesty designer carries a subtle sense of dressing to devote to the society by expressing her affection for handloom via her label "Thhreads".
7.Swarnima Shreya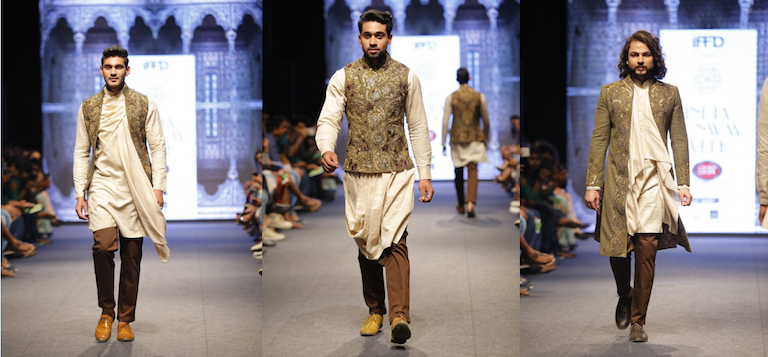 'Misery to Miracle' based on the life of the weavers of Jharkhand who make tussar silk and muga silk which have been primarily used in the collection. The misery of their lives and the beauty of the ultimate result, the rugged look of the fabric and rustic life of the weavers; spun into the drapes of the silhouettes and flow of the garments.
8.Shravan Kummar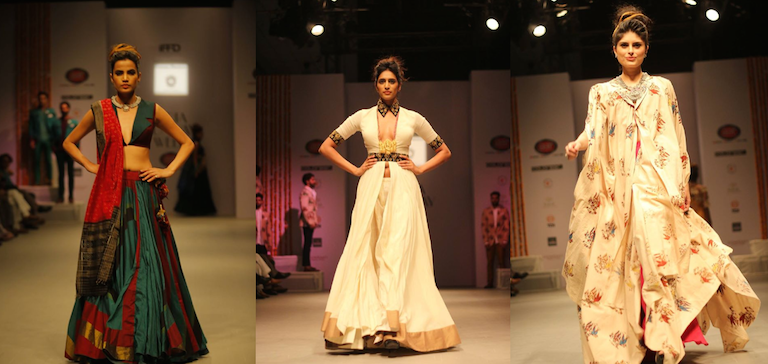 A sheer love for the traditional textiles and passion for working with craft clusters helped me to witness a rare, dying and endangered craft of making a "pachedi" which is a canopy for the mother goddess is totally sustainable, eco-friendly and hand painted with vegetable dyes which is offered to the goddess to fulfill its purpose.
9.Soutache by Designer Gourika Sharma
The colours used are  cool blues, shades of sand, pristine whites and the pale florals of a spring garden. The fabrics are fine linen, linen blends, silk and textured cotton – specially crafted for this collection. The blue outfits are highlighted with pintucks, hand worked ladders and tie dye patterns inspired by Shibori.
10.Muskaan Aggarwal
The intricate carvings from the doors of the Awadhi architecture coming alive on silk in the form of detailed embroidery crafted by skilled artisans on the most celebrated garments worn by the contemporary Indian women eminent usage of zardozi work along with gota patti and pita work is done on the garments to make them stand out. Her collection received appreciation as it paid tribute to Indian heritage.
My personal favourites are Soutache and Rangsutra; love their flowy fabric and the simple cuts that look modern and stylish. Which is your favourite?